Hot Springs
The hotel has two private bathing rooms, which are available, by reservation, only to guests staying at the Naigosho.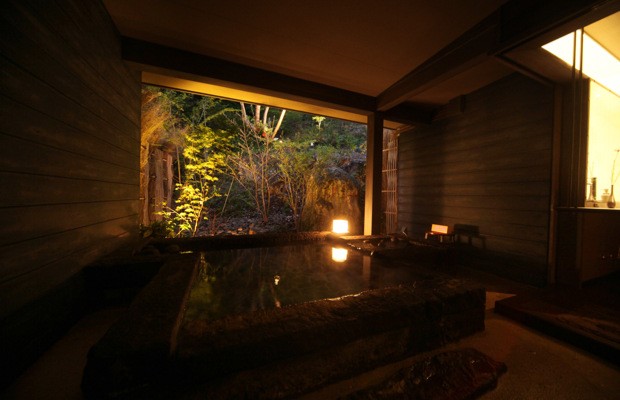 First Bath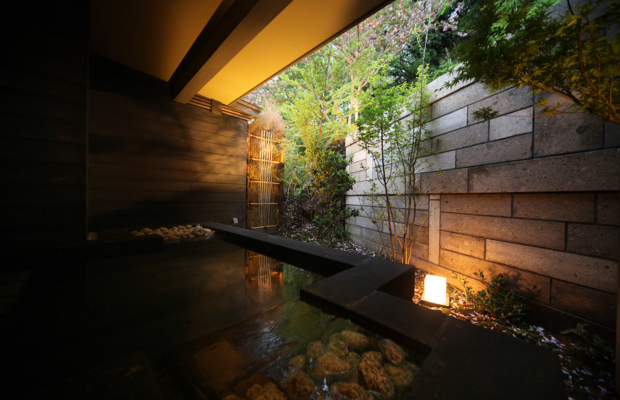 Second Bath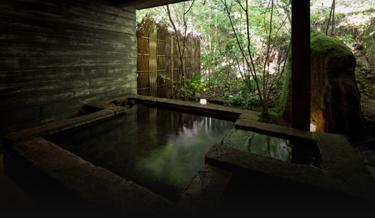 Overview
Hours

Morning: 6:00–10:00 a.m. Afternoon & evening: 3:00–12:00 p.m.
Note: Bathing time is limited to 50 minutes per session
Reservations are required, the baths may only be used by guests staying at the Naigosho, and use of the baths is free of charge.
The baths can be reserved at the reception desk after you check in.
About Takeo Hot Springs
Takeo Hot Springs is known for the transparency and pleasant softness of its waters. The hot spring is rich in history, since the "Hizen Fudoki," written 1,300 years ago, makes mention of it, writing, "on the west side of the district lies a crag from which there issues a hot spring," and it is said that even Empress Jingu once bathed here. Also, at the time of the Bunroku and Keicho Campaigns, the large numbers of soldiers who were assembled at Nagoya Castle would visit Takeo Hot Springs, and there is preserved to this day a red-sealed document, entitled "Rules for Bathing," that Hideyoshi Toyotomi issued to keep the soldiers from disturbing the other bathers. During the Edo period, Takeo Hot Springs flourished as a station on the Nagasaki Kaido road, and such famous historical personages as Musashi Miyamoto, Philipp Franz von Siebold, Masamune Date, and Tadataka Ino are recorded to have bathed here. Takeo Hot Springs is a simple thermal hot spring, mildly alkaline, that contains a variety of mineral elements in just the right proportions. The waters have excellent heat retention, and are famous for making skin beautiful.
Hot-spring source
Alkaline, simple thermal hot spring
Benefits and effects
Reducing fatigue, nerve pain, muscular pain, joint pain, shoulder stiffness,
and joint stiffness; healing bruises and sprains; and improving health
Harmful for the following conditions
Malignant tumors, serious heart disease, and hemorrhagic diseases